Offices In Berlin
>
Offices In Berlin Kreuzberg
View Map
Office Ritterstraße 2a
"Startup Office Space in "Altbau"-Style"
Space ID: yFiV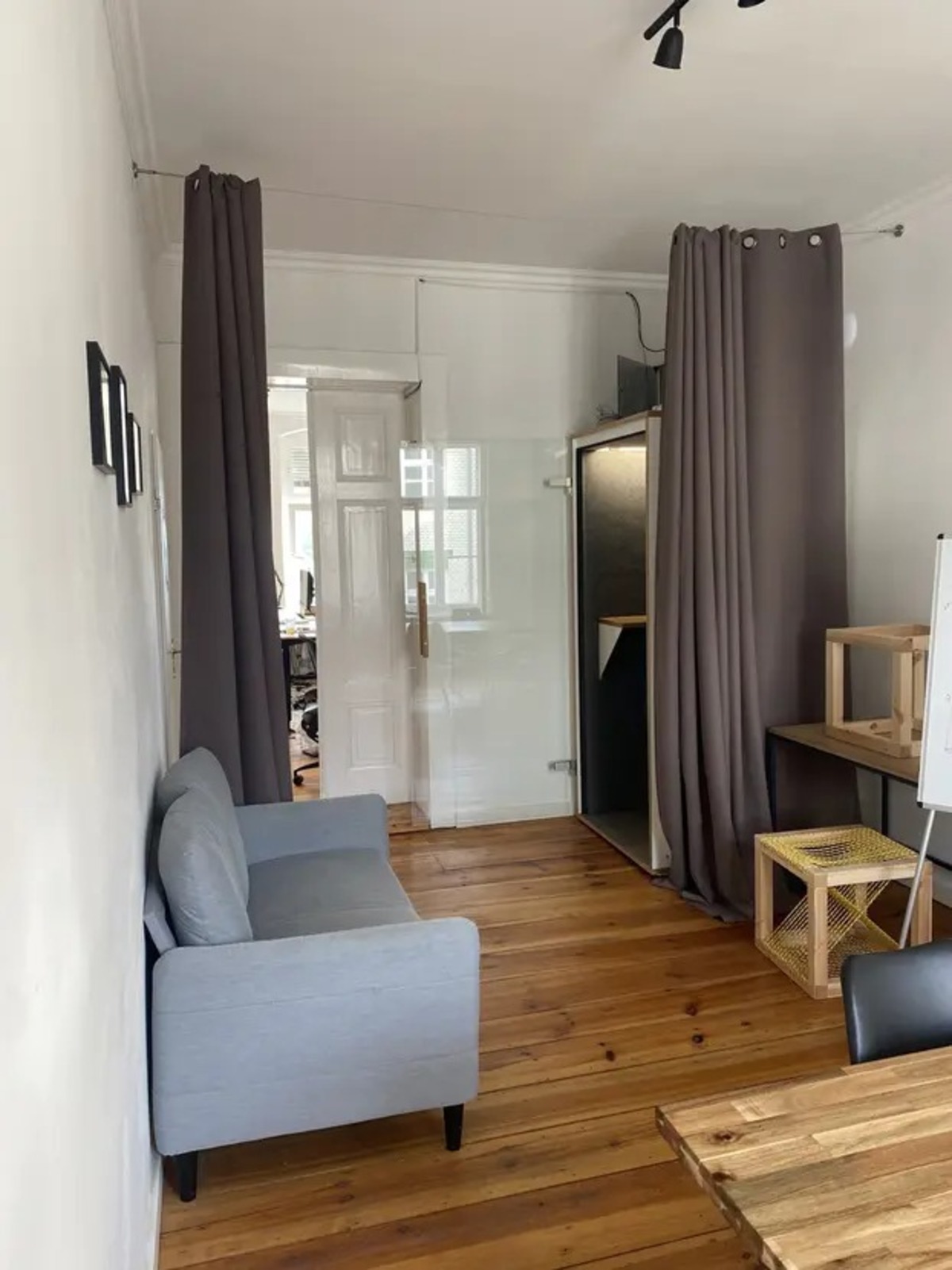 Availability
Terms:
3.0 months deposit

months cancellation

24 months. min contract duration

All prices are excl. VAT
About the space
Objektbeschreibung:
Die Bürofläche befindet sich im dritten Stock im Vorderhaus eines komplett sanierten Altbau Gebäudes. Die ehemalige Wohnfläche wurde zu eine Bürofläche umkonstruiert und ist ideal geeignet für kleinere Firmen und junge Startup Unternehmen. Es gibt hohe Decken, schönen Parkettboden und alle Räume sind mit ausreichend Tageslicht versorgt. Zwei Räume gehen zur Straße raus, das dritte liegt in Richtung Innenhof. Autoparkplätze sind ausreichend auf der Straße vor dem Gebäude und in Gebäudenähe vorhanden, sowie diverse Fahrradstellplätze im Innenhof des Gebäudes.
——— EN ———
The office space is located on the third floor in the front part of a rehabilitated building in "Altbau" Style. It is a former apartment that has been reconstructed into an office space, ideal for small companies and young startups. It has high ceilings and nice parquet flooring with a lot of light. Two of the rooms face the street, the third one faces towards the courtyard. There are plenty of parking spaces on the street in front of the building and close by, as well as several bike parking spots in the courtyard of the building.
Lage:
Das Gebäude befindet sich in sehr zentraler Lage, in Kreuzberg (Ritterstraße 2a). Es ist gut an das öffentliche Verkehrsnetz angebunden. Es gibt eine Bushaltestelle, die fußläufig innerhalb von nur 1 Minute zu erreichen ist und die beiden U-Bahnstationen (U Kottbusser Tor & U Moritzplatz) sind ebenfalls beide nur ca. 5 Minuten zu Fuß entfernt. Außerdem gibt es in der Umgebung viele Essensmöglichkeiten (z.B. am Oranienplatz). Viele junge Unternehmen haben sich in den letzten Jahren in der Gegend angesiedelt und es scheint das perfekte Gründerklima für viele Teams aus unterschiedlichen Branchen zu bieten.
——— EN ———
The building is placed in a very central location, in Kreuzberg (Ritterstraße 2a). It is well connected to the public transport with a bus stop only 1 min walking distance as well as the two U-Bahn stations (U Kottbusser Tor & U Moritzplatz) both only about 5 min walking distance. Additionally, there are plenty of food options around here (e.g. at the Oranienplatz). A lot of young businesses have settled in the area over the past years and it seems to be the perfect founders' climate for many teams from different industries. Ausstattung Die gesamte Bürofläche soll bestenfalls möbliert übergeben werden. Dies beinhaltet zwei Räume die als Büroräume mit jeweils sechs höhenverstellbaren Tischen & Bürostühlen ausgestattet sind, sowie den dritten Raum, der einen großen Esstisch und sechs Stühle beinhaltet. Außerdem gibt es zwei Telefonboxen, die idealerweise mit übernommen werden sollen. Die Küche ist ebenfalls so ausgestattet, dass man sie im Unternehmenskontext gut nutzen kann.
Für die Möbel wird eine angemessene Abstandszahlung fällig, falls diese übernommen werden.
——— EN ———
The entire office space is handed over with all of the current furniture (at best). This includes two rooms that are equipped as office rooms with six height-adjustable tables & office chairs each, as well as the third room, which contains a large dining table and six chairs. Moreover, there are two telephone boxes that ideally should be taken over as well. The kitchen also comes equipped in a way to easily use it in a company context.
A reasonable clearance payment will be due for the furniture if it is taken over. Sonstiges Das Büro wird von uns an einen Nachmieter übergeben inklusive eines neuen Vertrags mit dem Vermieter (voraussichtliche min. Mietdauer von 2 Jahren).
——— EN ———
The new tenant would take over the office space from us with a new contract, that needs to be negotiated with the landlords (probably 2 years min. rental period).
Ritterstraße 2a, 10969 in Kreuzberg Berlin
Enquire about this space
Fill out the form below. A Setting agent will connect with you to organize a tour of this space.
Why Setting?
Easily organize viewings
Personalized support
Quick response time
Similar Spaces in Berlin
View more spaces
Looking for Extra Coverage?
Finding a new office can be time-consuming. Our Custom Offices help you navigate the latest market developments to ensure you get the perfect space.