Offices In Berlin
>
Offices In Berlin Kreuzberg
View Map
Office Leuschnerdamm 13
"Tische oder seperater Büroraum in Kreuzberger Agentur zu vermieten"
Space ID: 2Ekt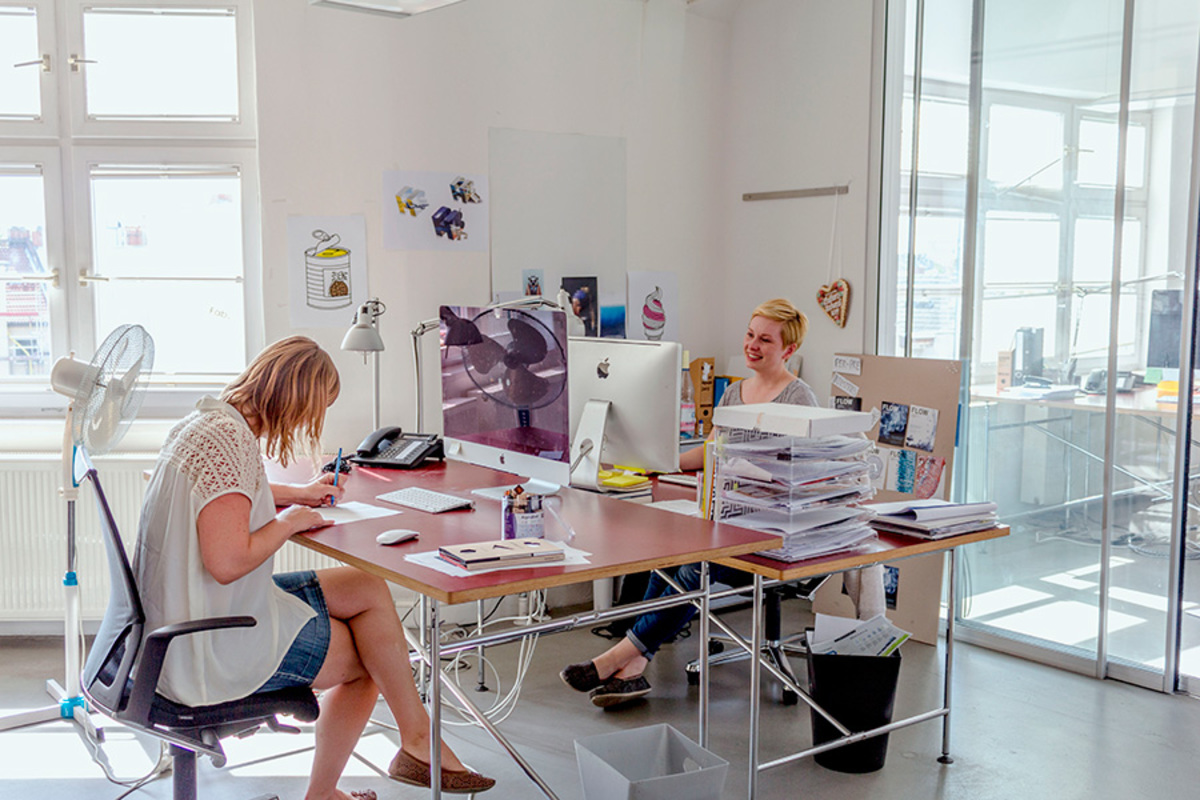 Availability
Terms:
3.0 months deposit

1 months cancellation

3 months. min contract duration

All prices are excl. VAT
Terms:
3.0 months deposit

1 months cancellation

6 months. min contract duration

All prices are excl. VAT
About the space
Seid ihr auf der Suche nach einem neuen Ort zum Arbeiten? Wir sind eine Berliner Agentur und haben In unseren Loft noch einige Tische und einen Raum zu vermieten. Wir freuen uns auf sympathische Untermieter, die zu unserer Unternehmenskultur passen und sich in der Schnittstelle von Design, Strategie, Innovation und Digitalem bewegen. Die Arbeitsplätze sind sowohl für Freelancer als auch für Start-ups geeignet! Wir bieten eine ruhige Arbeitsatmosphäre im Herzen Kreuzbergs im 5. OG eines denkmalgeschützten Hofensembles.
Einzelne Arbeitsplätze im Großraum Vermieten wir inklusive Tisch und Stuhl für 250 Euro. Die Mindestlaufzeit beträgt 3 Monate.

Arbeitsinseln im Großraum Hier können zwei bzw. drei Tische zu einer Arbeitsinsel zusammen gestellt werden. Zwei Tische vermieten wir für 450 Euro und drei Tische für 600 Euro. Die Mindestlaufzeit beträgt 6 Monate.

Separater Raum Der Raum hat 60 qm und lässt sich um 15 qm erweitern. Auf den 60 qm passen 6-10 Arbeitsplätze. Die Erweiterungsfläche lässt weitere 2 Arbeitsplätze oder Raum für Besprechungen zu. Die Miete für den voll eingerichteten Raum (Arbeitstische, Stühle und Regale) beträgt 1750 Euro und für die Erweiterungsfläche weitere 350 Euro. Die Mindestlaufzeit für den separaten Raum beträgt 6 Monate.
Über die angemieteten Arbeitsplätze hinaus, könnt Ihr Euch in unsere Projekt-, Konferenz- bzw. Workshopräume einbuchen. Sämtliche Getränke (Café, Saft und Wasser sowie Obst) sind im Mietpreis enthalten. Die Büroräume sind mit einer Alarmanlage gesichert. Alle Preise verstehen sich als Nettopreise inklusive aller Nebenkosten.
Leuschnerdamm 13, 10999 in Kreuzberg Berlin
Enquire about this space
Fill out the form below. A Setting agent will connect with you to organize a tour of this space.
Why Setting?
Easily organize viewings
Personalized support
Quick response time
Similar Spaces in Berlin
View more spaces
Looking for Extra Coverage?
Finding a new office can be time-consuming. Our Custom Offices help you navigate the latest market developments to ensure you get the perfect space.