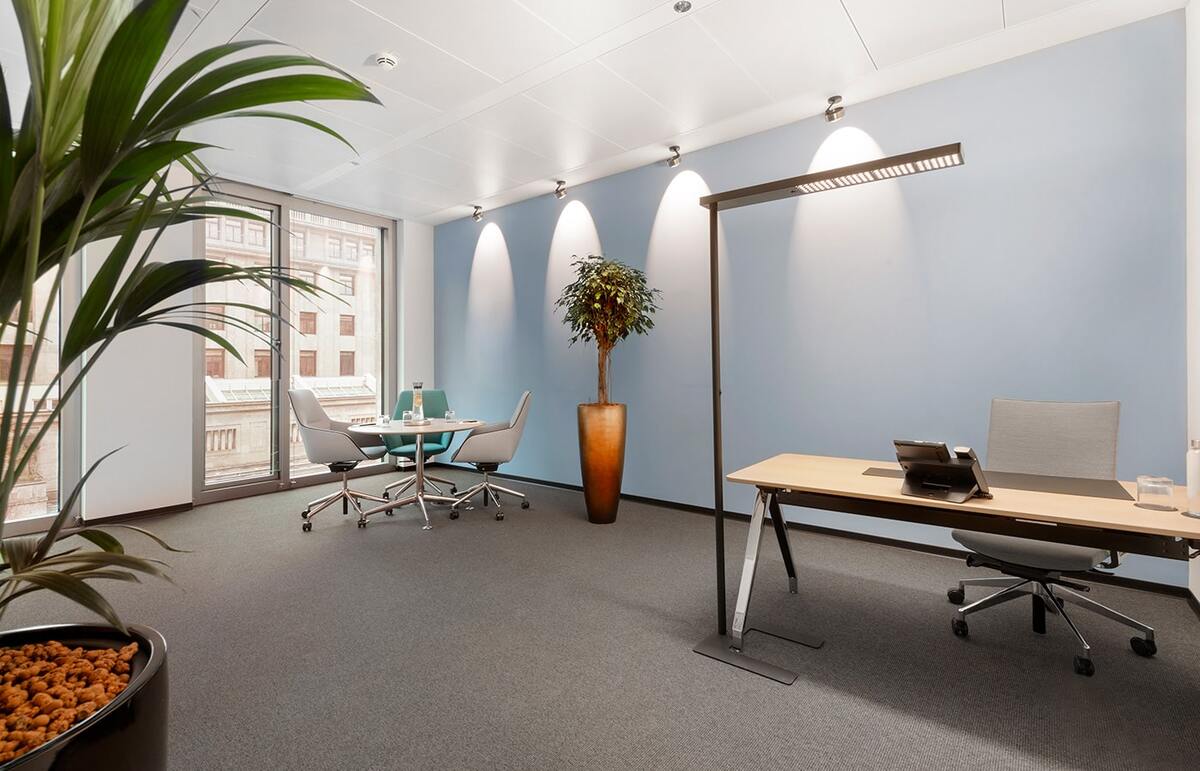 Availability
Private Office
Price on request
About the space
The "Alter Wall" building is located right in the heart of the Hanseatic city. Between the town hall, Alsterfleet and Alter Börse, it connects the banking district with the Inner Alster. A historic ensemble with state-of-the-art office space in Hamburg's best location.
You can expect tastefully furnished offices, exceptional conference and meeting rooms, virtual office solutions and professional staff.
Up to 16 people can meet in our five exclusive conference and meeting rooms. Enjoy the special atmosphere on the Alsterfleet at the Rathausmarkt with your guests.
In the exclusive meeting rooms or the spacious and extremely stylishly furnished executive office, with a magnificent view of the old stock exchange, you can work or confer as well as hold meetings or confidential conversations in a small circle. If required, a system with 4K resolution is available for video conferences. For an all-round successful event, the provider Contora offers individual catering and freshly prepared Italian coffee specialties.
The location is privileged: Hamburg, as the gateway to the world and the second largest city in Germany, has recently reinvented itself and is one of the most popular cities to live and work in.
Centrally located on the Alter Wall, right next to the town hall and stock exchange, there is a historically valuable building ensemble that has been completely renovated. The outer facade of the Alter Wall building is unique and brings back memories of the Hanseatic era.
The infrastructure at Alter Wall is incomparable. Every daily and non-daily need can be met within minutes: shopping and medical care, entertainment, culture and education are always just a few steps away.
The location also proves to be absolutely privileged in terms of accessibility: located directly on the Jungfernstieg and Rathausmarkt, it is still easy to reach by car. The house has its own parking spaces and a public underground car park.
The connection to the public transport network is nothing less than perfect, with two S-Bahn and two subway stations in the immediate vicinity.
It is possible to set up a coffee/tea flat rate per workplace based on consumption or for a fee of €59.00 plus VAT. As a customer, you will receive an access chip or card for the entrance to the building and our area, as well as a normal key for your own office.
Amenities
Supplies
Furniture
Kitchen
Meeting room
Services
Cleaning
Security
Coffee machine
Great view
Electricity
Heating
Access
Digital lock
key card access
Alter Wall 32, 20457 in Hamburg-Mitte Hamburg
Enquire about this space
Fill out the form below. A Setting agent will connect with you to organize a tour of this space.
Why Setting?
Easily organize viewings
Personalized support
Quick response time
Looking for more options?
Finding a new office can be time-consuming. Our Custom Offices help you navigate the latest market developments to ensure you get the perfect space.