Offices In Berlin
>
Offices in Berlin Mitte
View Map
Office Choriner Straße 81
"Office in a historic house in Mitte"
Space ID: 8Vza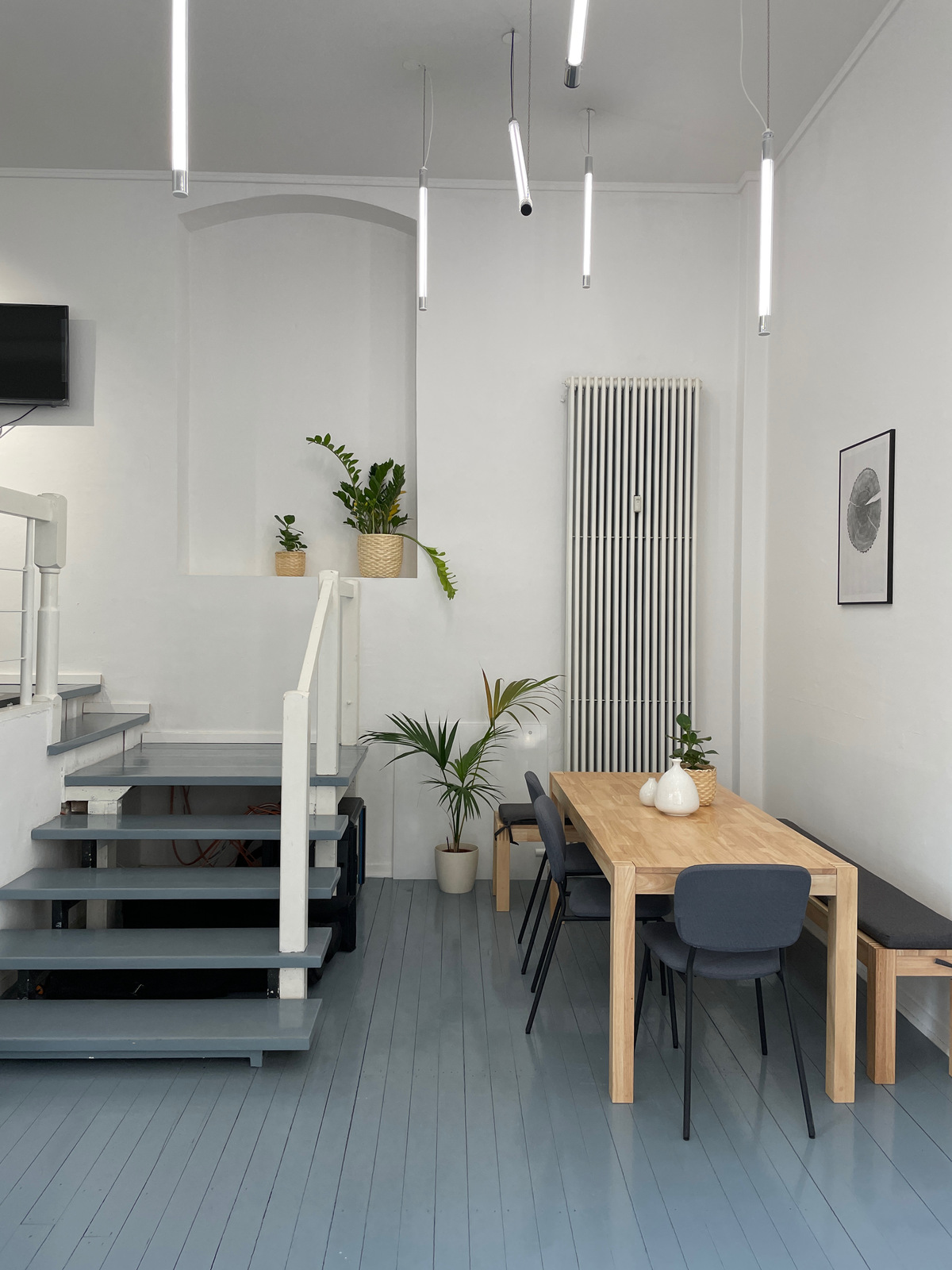 About the space
For a team of 16-20 people. Available from 1st of July.
Your future office may be located in a quiet but central location between Senefelder Platz (U2) and Rosenthaler Platz (U8).
The loft office is characterized by a unique, clear, and hip style that extends over two floors. It consists of a mezzanine floor and a basement. The office rooms are flooded with light and bright due to the large window fronts. The office can be accessed directly from the street and is therefore easy to find.
The 140 square meter office impresses with its special layout and extravagant architecture. It is characterized by an open character. In the office, the team has the opportunity to work together in the open space. However, there is also the alternative of working in the meeting room in peace and quiet.
The modern and new kitchen is connected to the open office through an opening but is separate. This has the advantage that you can work undisturbed in the office despite being used in the kitchen. In the basement, there is a place of retreat for breaks and phone calls.
The office has renovated modern bathrooms and a shower.
The cozy and open office gives the team the feeling of working together in an open space and still being something to themselves. The visually separated rooms offer space for rest, concentration, and creativity. In summary, an open oasis of well-being with visually separated rooms for different teams.
The office offers many individual options to visualize your brand or company and skillfully include them in the office. The large window front can offer a great option for branding.
Between Torstrasse and Rosenthaler Platz. The central location is ideal for the office as there are numerous restaurants, cafes and bars in the immediate vicinity. Rosenthaler Platz and Torstrasse are very popular with young and emerging companies. Many successful startups and companies are at home in the immediate vicinity.
Worry-free rent - ready to work Included in the price: Fully furnished and equipped, ready-to-work 24/7 access through the digital lock to the premises Thorough and regular cleaning Fully equipped meeting rooms Fiber optic internet connection Air conditioning and heating Shower available Business printer
Amenities
Supplies
Furniture
Printer
Scanner
Kitchen
Phone booth
Meeting room
Services
Cleaning
Coffee machine
Electricity
Heating
Choriner Straße 81, 10119 in Mitte Berlin
Enquire about this space
Fill out the form below. A Setting agent will connect with you to organize a tour of this space.
Why Setting?
Easily organize viewings
Personalized support
Quick response time
Similar Spaces in Berlin
View more spaces
Looking for more options?
Finding a new office can be time-consuming. Our Custom Offices help you navigate the latest market developments to ensure you get the perfect space.