Office Greifswalder Straße 156
"Office space Greifswalder Straße & Erich-Weinert-Straße"
Space ID: 1vGZ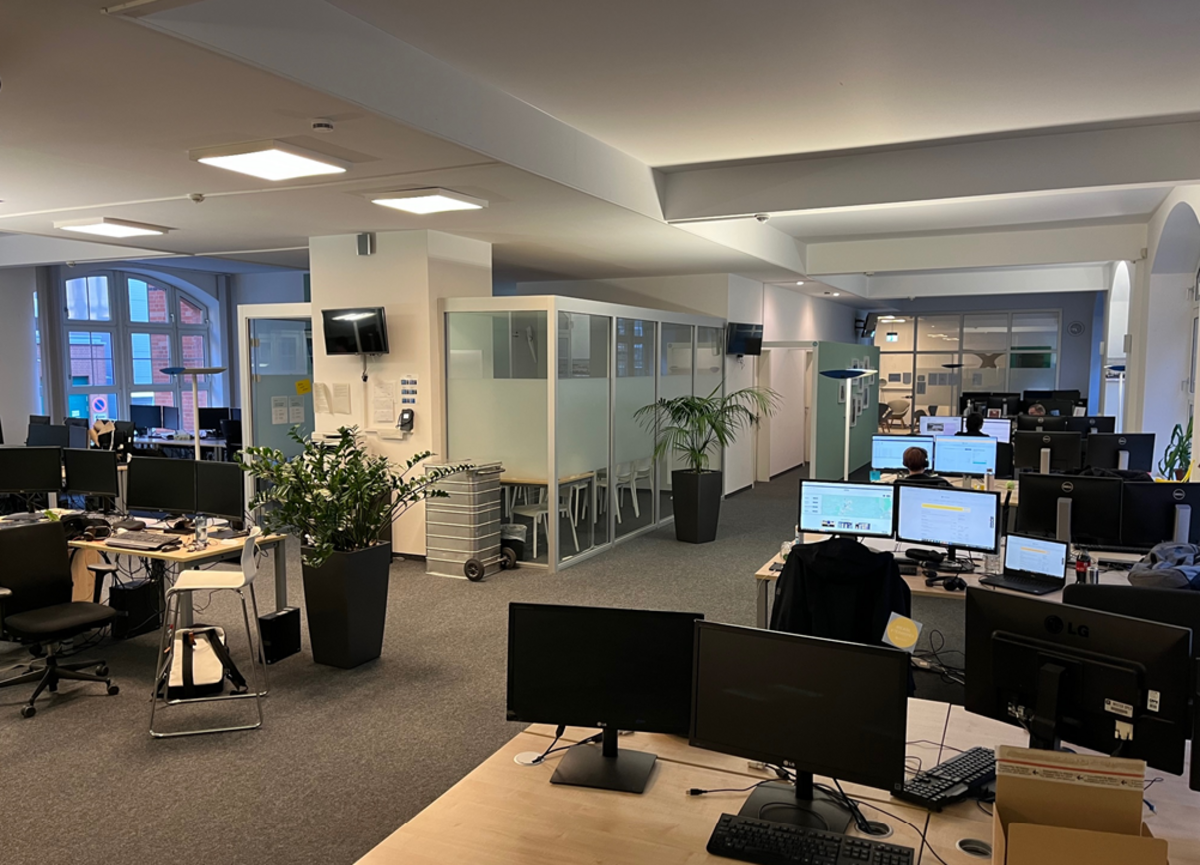 Availability
Entire Floor
1180 - 4060 m²
15€ /desk/month
Über diesen Space
Welcome to our office space in Berlin Prenzlauer Berg!
A total of around 4,060 m² of office space is available for subletting, divided between the Greifswalder Straße (GWS) and Erich-Weinert-Straße (EWS) buildings.
The space in the GWS has 2,879 m², while in the EWS 1,180 m² is available for subletting on the ground floor/1/2. The office space is technically fully developed and can be used directly, with CAT-7 cabling between different floors, as well as WLAN access points with connections in the ceiling.
We also offer the option of using various Internet connections (VDSL / [colt] fiber optic) and air-conditioned office and server rooms (2 pcs.).
The sublet also includes an underground car park with 4 parking spaces and a roof terrace with 187 m².
The many glass surfaces and retreat options for hybrid work ensure the perfect working atmosphere. Various meeting rooms and work areas, several tea kitchens and toilets as well as printer and server rooms are available for meetings and conferences.
Our furniture is in excellent condition and can be rented for a surcharge on top of the basic rent. We also offer a separate event lounge for meetups, events, project groups and dinners.
The monthly net additional cost advance payments amount to €4.70/m² if the entire area is sublet.
We look forward to helping you find your perfect workspace!
Amenities
Supplies
Furniture
Kitchen
Meeting room
Greifswalder Straße 156, 10409 in Prenzlauer Berg Berlin
Enquire about this space
Fill out the form below. A Setting agent will connect with you to organize a tour of this space.
Why Setting?
Easily organize viewings
Personalized support
Quick response time
Ähnliche Büros in Berlin
Weitere Büros ansehen
Looking for more options?
Finding a new office can be time-consuming. Our Custom Offices help you navigate the latest market developments to ensure you get the perfect space.