Future of work 25 May 2022 5 min read
It's that time again. After a successful product launch, your team is growing, growing, and growing. As HR puts out listings for 15 new positions, it suddenly occurs to you that you have nowhere to put the new hires—they can't work in the closet, after all. But how much space does your company actually need? And what metrics should you use to calculate?
It's an age-old question that many managers, founders, and employees continue to grapple with. And, with work from home now a norm across all different types of businesses, it's one that has become even more prominent.
Broken down simply, there are all kinds of important things to take into account with measuring how much space you need. Although there are no exact regulations regarding the minimum amount of square meters which a workplace must-have, there are general rules you can follow to correctly allocate the correct amount of space in your next office.
As a starting point, you obviously have the current office space to begin determining the number of square meters (m²). But don't forget that the things that are often unseen—furniture, fridges, stoves, your coffee machine, even—can often take up more space than you think.
So what's the best way to calculate how many square meters you actually need?
1. Think about space according to your own prerogative.
A general rule of thumb is that you should take into account a minimum of 10 square meters per office employee. Indeed, most people agree that an office space ratio of 8-15 square meters per person is optimal. But here, it's essential to consider the nature of your business and your values and preferences for office spaces. For example, if you generally prefer having a bit more of a spacious office, then calculate 15 to 20 square meters per employee. If you prefer open spaces, too, then think more holistically about having more square meters. Case in point: think about what you want and calculate accordingly.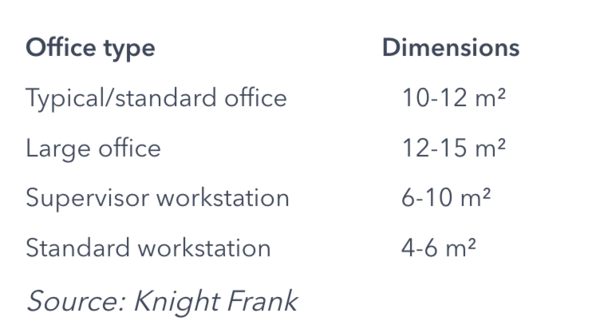 2. Take your work-from-home policy into account.
Given that a lot of your employees are probably working in hybrid fashion—that is, a few days in the office a week—your calculations of space should reflect the cadence of your work from home policy. Think about it this way: in the hybrid model, a large percentage of the employees no longer have a fixed workplace anymore. This means that if your company, say, has 60 employees, that number does not necessarily correspond to 60 workspaces.
3. Don't forget about corridors, public spaces, and kitchens.
A lot of the current estimates on how much square meters you need—the 10 square meter rule of thumb, for instance—do not include kitchens, corridors, bathrooms, meeting rooms, and other spaces in your office. Don't forget about these, as they often take up more space than you think. In order to get an estimate on these spaces for your new office, take a hard look at what you have in your current office arrangement. Think about the following questions: do I need more meeting rooms? What about bathrooms? Once you do, add on another 10-20 square meters or so per different item.
4. Check in with the legal minimum standards for office space per person.
Business space requirements are also governed by building codes and regulations, as well as employment law. In Germany, for instance, the Workplace Ordinance (ASR) describes the requirements for workplaces as needing the following:
Office and computer workplaces must allow an area of ​​8-10 square meters per employee and workplace—and that number in open-plan offices goes up to 12-15 square meters.
Movement areas, traffic routes(including escape routes) storage spaces, functional spaces, and safety zones are also mandatory.
An employee must also have a motion radius—which accounts for different postures and compensatory movements–of 1.50 square meters.
5. Tomorrow is still a new day.
Even though you just moved into a new office, it's still critical that you be conscious of the future, and always be a step ahead of your business scaling. On the office/architectural front, that means thinking about how your space may evolve over time if you do see your company growing in the next 5 to 10 years. Open plan offices may be useful to your brand, but only if you know you have the right amount of people to fit them. So too can large meeting rooms and an employee hangout area. Case in point: even though you just moved in today, keep thinking about the bright future that awaits you tomorrow.
We're helping the Berlin office ecosystem find the right office space with our tailor-made solutions. If you're looking for an office space or need advice on finding the right space, talk to us.